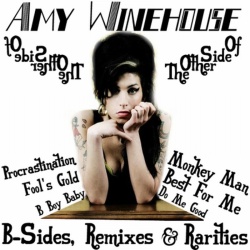 CD1:

01.Monkey Man
02.You Know I-m No Good Ft. Ghostface Killah
03.Valerie (Live Lounge - 10-01-07)
04.Best Friend (Acoustic)
05.Will You Still Love Me Tomorrow
06.He Can Only Hold Her (Pnut Demo)
07.What It Is
08.Do Me Good
09.Fuck Me Pumps (Mylo Remix)
10.To Know Him Is To Love Him (Napster Live Session)
11.-round Midnight
12.Back To Black (Zilla Rocca Remix)
13.Close To The Front
14.Best For Me (Feat Tyler James)
15.Love Is A Losing Game (Acoustic)
16.Rehab (Desert Eagle Discs Remix)
17.I Should Care (Live)
18.I Heard It Through The Grapevine (Duet With Paul Weller)

CD2:

01.Valerie (Mark Ronson Version)
02.You Know I-M No Good (Skeewiff Remix)
03.Hey Little Rich Girl
04.Back To Black (The Rumble Strips Remix)
05.Fuck Me Pumps (Mj Cole Mix Edit)
06.Get Over It Ft Jtwr
07.Take The Box (The Headquarters Mix)
08.You Know I-M No Good (Live Lounge)
09.You-Re Wondering Now
10.Rehab (I Can-T Help Myself Remix)
11.B Boy Baby Feat. Mutya Buena
12.Don-T Go To Strangers (Duet With Paul Weller)
13.Beat It (Duet With Charlotte Church)
14.In My Bed (Bugz In The Attic Vocal Edit)
15.Fool-S Gold
16.Tears Dry On Their Own (Eric Clapton Remix)
17.Stronger Than Me (A Cappella)
18.Procrastination
Amy Jade Winehouse (nacida el 14 de septiembre de 1983, Londres) es una cantante y compositora inglesa, conocida por sus mezclas de diversos géneros musicales, incluidos entre ellos el Soul, Jazz, R&B, Rock & Roll y Ska. Es mejor conocida por su registro vocal (Contralto), que ha sido descrito como "acústicamente poderoso" y además, "expresa profundamente sus emociones".
En 2003 Winehouse lanzó su álbum debut, Frank, que obtuvo críticas positivas y fue comercialmente exitoso en su país natal, Gran Bretaña, y fue nominado por los premios Mercury Prize. Su segundo álbum de estudio, Back to Black, fue publicado en 2006. Por este disco la cantante consiguió seis nominaciones a los Premios Grammy, de las cuales ganó cinco, entre ellas, Canción del año, Grabación del año y Mejor artista nuevo. Este hecho condujo a Winehouse a obtener el record por ser la primera mujer en ganar la mayor cantidad de reconocimientos en una sola noche y además ser la primera artista Británica ganadora de cinco Grammys. En febrero de 2007, ganó el BRIT Award a Mejor Artista Británica. También ha ganado un World Music Award y tres Premios Ivor Novello, entre otros prestigiosos reconocimientos.
Winehouse ha sido acreditada como una influencia detonadora en el ascenso de la popularidad de mujeres dedicadas a la música, de la música Soul y por fortalecer a la música Británica.
Winehouse ha recibido además, la atención de los medios por causas ajenas a su voz. Su estilo distintivo, ha sido motivo de inspiración para algunos diseñadores de modas como Karl Lagerfeld. Su adicción a las drogas y al alcohol, sus complicaciones médicas derivadas de su comportamiento autodestructivo, así como sus constantes problemas legales la han convertido en noticia cotidiana desde 2007.